Activities
Academic Activities:
Other than classroom lectures, clinical demonstration, regular evaluation of individual students practical skill and theory knowledge are done periodically well functioning journal club, where students are encouraged to present published articles on a chosen topic, to enrich research aptitude.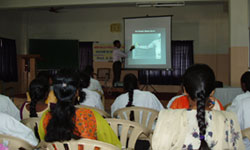 Weakly held clinical case presentation by students duly guided by faculty to improve confidence and communication skills among pupil physiotherapists are few to stated Compulsory regulatory internship: after having passed the final year university Examinations candidates should under to internship training in various fields including Orthopaedics, Neurology, Cardio respiratory, oncology, Burns, Paediatric, OBG, Sports and fitness, Geriatrics for a specified period in reputed institutions including
a) Sree Balaji Medical College and Hospital, Chrompet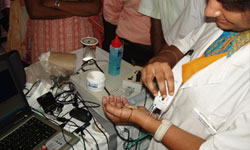 b) Global Trust Hospital
c) Cancer Institute
d) The Child Trust Hospital
e) SPARC
f) The voluntary health services
g) GREMALTERS
Evaluation of individual candidates upon successful completion of each posting leads to eligibility to receive Bachelors degree in Physiotherapy
Extracurricular Activities:
1. Community field visit at rural areas for better understanding healthcare needs of society and to serve them are getting on a day to day basic since 1999, Sports, games, cultural activities are encouraged.
2. Regular voluntary blood donation camp with Indian red cross society, Tamilnadu branch is organized at the college campus. The colleges is awarded the best voluntary donar among medical college by the Indian red cross society with a rolling shield consecutively for the year 2008-2009 and 2009-2010.