Facilities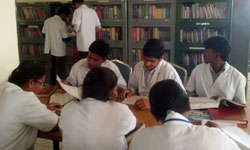 Location:
The College is located at Pallikaranai, Chennai 600 100 on Velachery main road midway between Velachery and Tambaram.
Library:
A well maintained library with clinical, medical and physiotherapy related books worth of 20 lakhs, national and a dozen international physiotherapy journals are available and utilized by students and faculty. Access to internet facility for faculty and students reference to facilitate the study.
Laboratory:
The College has the following well equipped laboratories with qualified professionals to import skill and knowledge to students: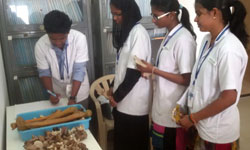 1. Anatomy Laboratory with Museum
2. Physiology Lab with Museum
3. Biochemistry laboratory
4. Pathology Laboratory
5. Microbiology Laboratory
6. Exercise Therapy
7. ElectrodiagnosisandElectrotherapy
8. GaitRetraining
9. Massage Therapy
10. Manipulative Therapy
Field Exposure:
With an out patient department functioning daily students are posted from 1st year to Inerns for evaluation, diagnosis and application of various physiotherapy techniques and equipments by senior faculty.
Medical subjects such as General Medicine, General Surgery, Paediatrics, Orthopaedics, Neurology, Cardiology, Respiratory students will be trained under senior professor in the respective field at 900 bed multispeciality hospital, Sree Balaji Medical College and Hospital, Chrompet, Chennai 600 044 at no extra cost to the students
An outpatient getting treated with electrotherapy.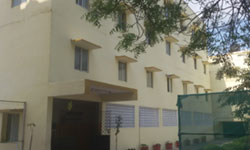 Hostel:
A well furnished hostel facilities are available separately for boys and girls with in the campus.
Transport:
Well connected by road and train, with a bus stop in from of college for MTC buses, MRTS (Train) facility with in one KM and the college operates its own van for I students during their clinical postings at other hospital
Building:
Situated in a vast 2 acres at heart of the city with adequate lecture and demonstration halls, Library, Faculty and students rest Rooms, well quipped laboratories, I and other due infrastructure facilities required for the course and available